When Can I Let My Kid Brush His Own Teeth?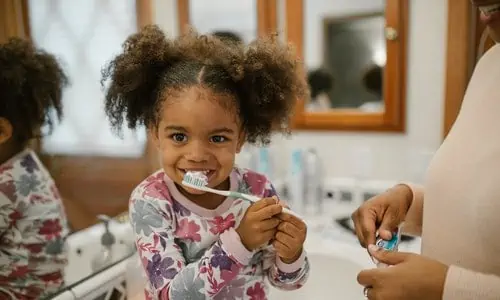 As kids grow up, they will start to do many things on their own such as tie their shoes, dress themselves, and pack their backpacks before school. Of course, you may need to help them the first couple of times, but soon they'll have a strong sense of independence and can tackle these tasks on their own. When it comes to the important duty of brushing their teeth, your pediatric dentist in Reynoldsburg has some advice as to when your child can begin brushing on his own.
Six Is The Magic Number
Before the age of 6, most children won't have the dexterity or due diligence to brush their teeth on their own. During these early years, it's important that a parent or guardian help little ones properly brush and floss every day. However, kids' fine motor skills start to improve around the age of six, and it's around that time when they can start taking over this responsibility. Keep in mind that during the transition, you may need to continue to supervise your child for a short period of time to make sure they're brushing thoroughly. Additionally, knowing when it's time to allow your child to brush their teeth alone is less about age and more about ability.
How Do You Know If Your Kid Is Ready to Start Brushing Alone?
When it comes to the oral health of kids, it's better to help them out for a little longer than necessary than it is to let them brush inadequately alone. Here are some tips from your pediatric dentist in Reynoldsburg about what to look for to know when your child is ready to brush solo.
Dexterity – Tiny hands can have trouble holding and moving a toothbrush around to all areas of the mouth and getting a thorough clean. A good guide to follow is when your child can effectively tie their own shoes, they probably have the dexterity to brush their teeth properly without mom or dad.
Maturity – Taking care of our teeth by properly brushing and flossing them at home is one of the most important things we can do to keep our mouths healthy. This is especially true for kids. You want to make sure your child is mature and responsible enough to trust them to do this important task. If your little one knows to wash their hands regularly, do their homework, and complete their chores, you can probably start to transition to solo brushing.
Understanding – There's a reason your pediatric dentist in Reynoldsburg recommends using only a small amount of toothpaste when brushing kids' teeth. It's important that they learn to spit the excess toothpaste out and not swallow it. Younger children can have a difficult time understanding how important this is as well as how to spit effectively. When your child can successfully spit on their own, they should be good to go.
Having your child take over the daily routine of brushing his own teeth is an exciting part of growing up. Remember, at-home oral healthcare is just as important as maintaining regular checkups with your pediatric dentist in Reynoldsburg. Make sure to keep up with your dentist appointments every six months.
Patient Safety Protocol
As always, our dedication to keeping our patients safe remains our top priority. To help us do that, please be aware of some of the following changes you may see at your next appointment:
We'll be utilizing a virtual waiting room. Please wait in your car until a team member notifies you to head inside.
We will be doing a health screening and taking the temperatures of anyone that enters the building.
We ask that only one guardian accompany a child and to not bring siblings who don't have appointments. Patients over 18 will come in on their own.
Please use the provided hand sanitizer when you come into the office.
Everyone in the building will be asked to wear a mask.
We have staggered appointment times to reduce the number of people in the building at any given time.
Sneeze guards have been installed at the front desk.
We have Air Purification with True H13 HEPA filtration, use UV sterilization for dental equipment, and high-speed suction devices in hygiene to reduce aerosols.
Please let your child know that our team will be wearing extra PPE (Personal Protective Equipment).
Our office has always maintained infection protocols that meet and exceed minimal recommendations, and we will continue to do so. In fact, our standard of care is now being adopted as the industry gold-standard in reducing aerosols.