A life of great oral health starts early.
contact us
 Understanding Your Child's Smile
At Buckeye Pediatric Dentistry, we believe that your child's dental care should begin as early as age one. Our doctors and the entire team can better plan out a lifetime of great oral health for your child if they can see it from the earliest stages of development!
What To Expect
When you bring your child in for their very first dental visit, you can expect only the warmest and friendliest experience. We even have you hold your child on your lap throughout the visit for extra comfort. During the exam, Dr. Lucia or Dr. Marlina will gently look over your infant's teeth, check for any signs of trouble, and make sure that the teeth are pushing through at the right time! Take a look at this Tooth Eruption Chart to learn more about when you should expect to see tiny teeth.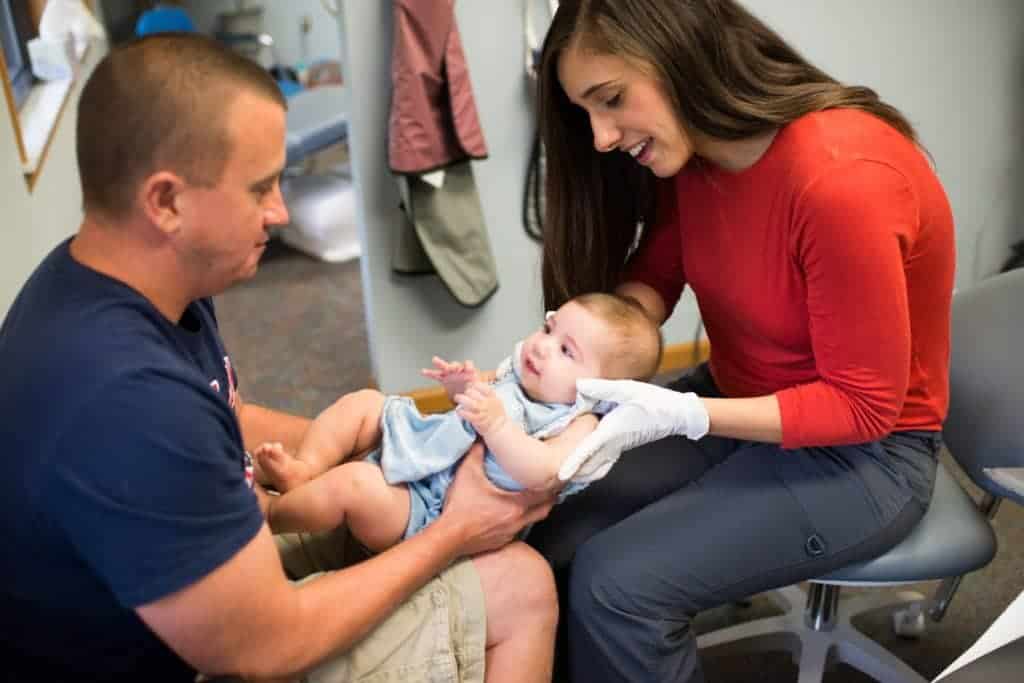 These early dental visits accomplish several things:
Allow our doctors to better understand your child's oral health needs
Create a better relationship between your child and our doctors and staff
Prevent unnecessary problems from surprising you or your child later on
Why It Matters
While all of us at Buckeye Pediatric Dentistry encourage you to bring your child to see us during these early stages of development, it's especially important to Dr. Lucia. During dental school, Dr. Lucia found passion in the importance of getting infants to the dentist early. In fact, her entire thesis was written on this very subject! Throughout her research, Dr. Lucia realized the long-term benefit this could provide her tiniest patients! She was even responsible for starting a clinic at Nationwide Children's hospital with the intent of seeing and treating children at this early age.
We would welcome you to call our office today and schedule a time for Dr. Lucia or Dr. Marlina to sit with you and your baby. You'll be setting the foundation for a lifetime of great dental health for your child!
Patient Safety Protocol
As always, our dedication to keeping our patients safe remains our top priority. To help us do that, please be aware of some of the following changes you may see at your next appointment:
We'll be utilizing a virtual waiting room. Please wait in your car until a team member notifies you to head inside.
We will be doing a health screening and taking the temperatures of anyone that enters the building.
We ask that only one guardian accompany a child and to not bring siblings who don't have appointments. Patients over 18 will come in on their own.
Please use the provided hand sanitizer when you come into the office.
Everyone in the building will be asked to wear a mask.
We have staggered appointment times to reduce the number of people in the building at any given time.
Sneeze guards have been installed at the front desk.
We have Air Purification with True H13 HEPA filtration, use UV sterilization for dental equipment, and high-speed suction devices in hygiene to reduce aerosols.
Please let your child know that our team will be wearing extra PPE (Personal Protective Equipment).
Our office has always maintained infection protocols that meet and exceed minimal recommendations, and we will continue to do so. In fact, our standard of care is now being adopted as the industry gold-standard in reducing aerosols.