Dedicated to Ohio's Young Smiles
Awards and achievements aren't the only things that make Dr. Lucia Gerstmann an outstanding choice for your child's dental care. (You can read all about them lower on this page!) What makes Dr. Lucia really loved by her patients is the amazing way she has of putting her patients at ease. She has a special interest and training in "behavior management," a stiff-sounding phrase that really means getting to know, understand, and gently meet the needs of every child – on their level!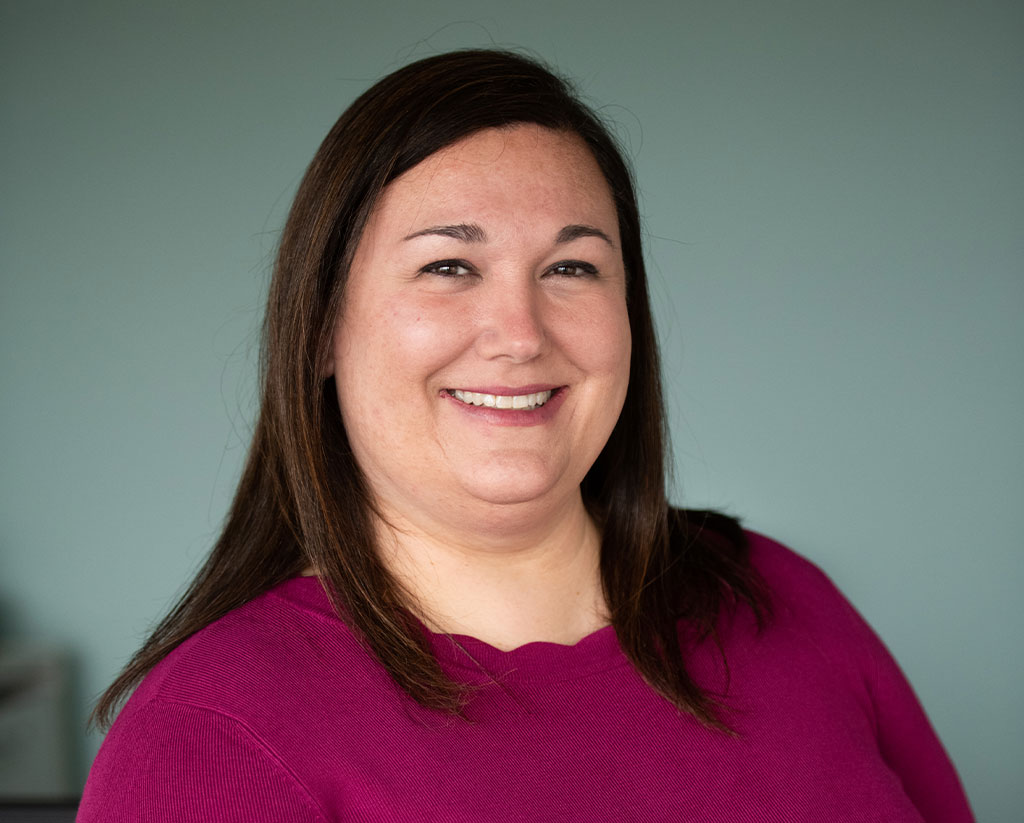 Getting to Know You & Reducing Anxiety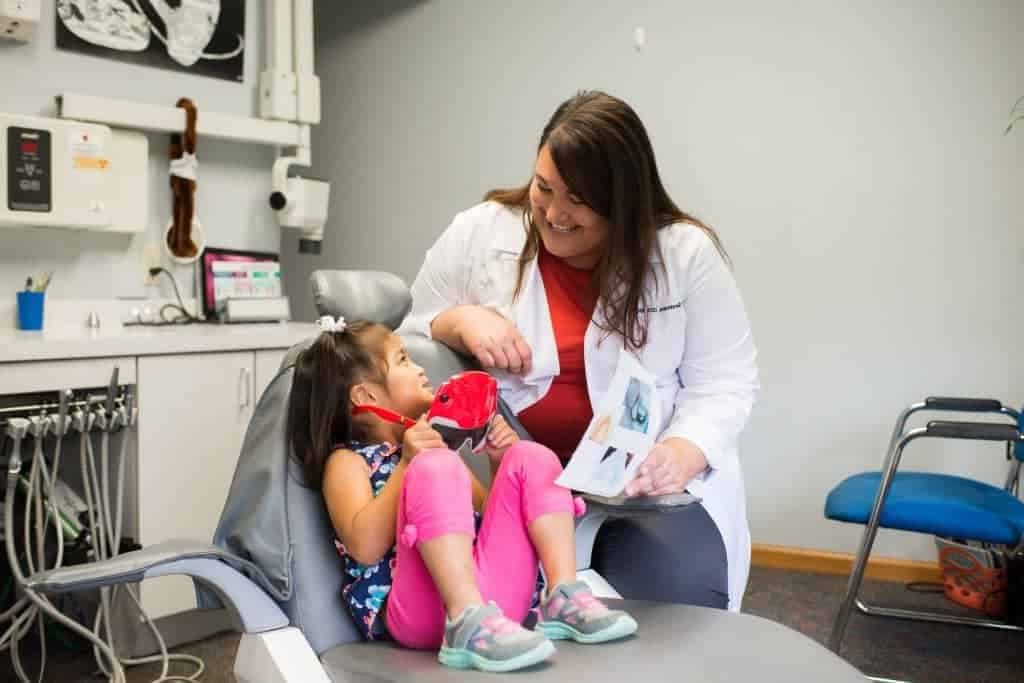 She knows that she and her staff are the biggest influence in their patients' comfort and cooperation, right down to the tone of voice and body language they use! And while positivity, compassion, encouragement, and fun come naturally to Dr. Lucia Gerstmann, it is also a big part of her practice philosophy and why she is able to treat even the most anxious or special needs child.
Everything Dr. Lucia Gerstmann does, every interaction, every word she says is intended to reduce anxiety and encourage patient cooperation. She is a behavior management expert! But all that fun and warmth is just as real as can be. She loves kids and even has two of her own! She is an expert on everything princess and knows quite a lot about video games, too!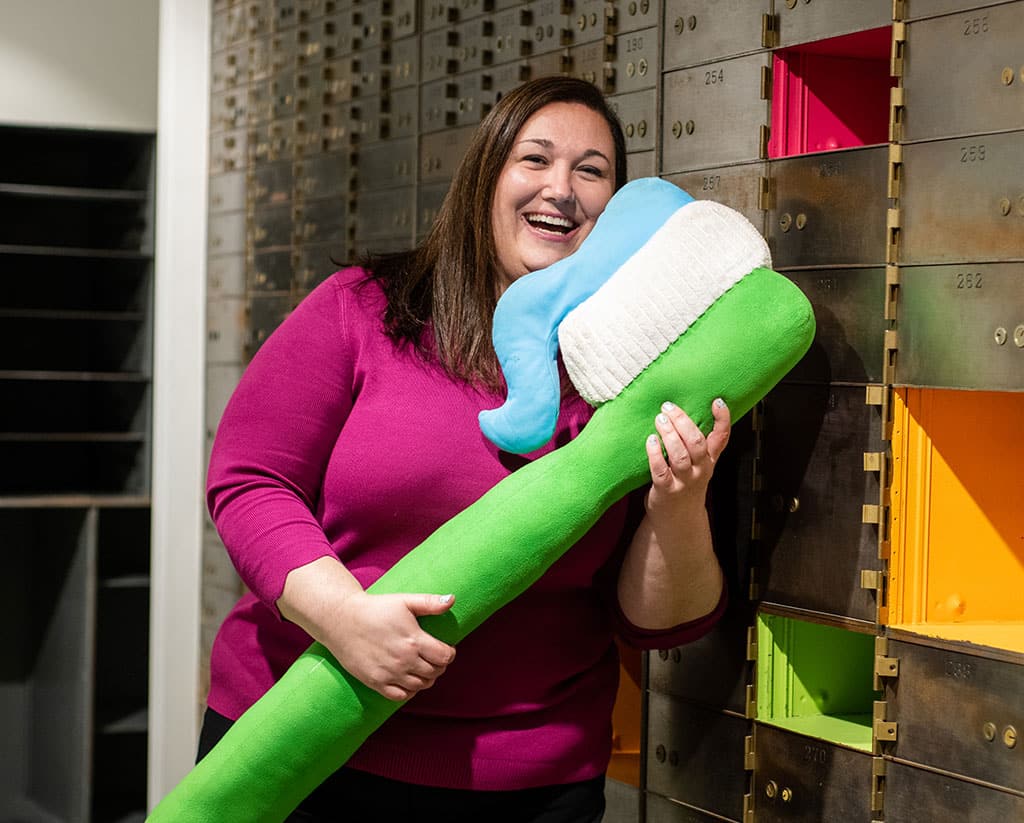 A little more about Dr. Lucia…
Even though Dr. Lucia was born in New York, she considers herself a total Buckeye and has lived in Ohio since 1988. What's more, she graduated with honors from The Ohio State University, holding a Bachelor of Science in Biology. But Dr. Lucia had always dreamed of being as happy as her childhood dentist was and continued her studies at The Ohio State University College of Dentistry, where she received numerous awards for her research.
In 2001, Dr. Lucia obtained her Doctor of Dental Surgery and went on to complete a pediatric dental residency at the Nationwide Children's Hospital, where she helped begin the Infant Oral Health Clinic. This respected clinic is still going strong and is today the foundation of several important research projects.
After residency, Dr. Lucia worked in private practice and part-time as an attending faculty member at Nationwide Children's Hospital until joining Dr. Kassoy as an associate in 2005. In 2011, Drs. Lucia and Kassoy formed a partnership and renamed the practice Buckeye Pediatric Dentistry. Dr. Lucia continues to teach in the pediatric dental residency program at Nationwide Children's Hospital.
Dr. Lucia is an active member of the American Academy of Pediatric Dentistry and a Diplomate of the American Board of Pediatric Dentistry, which means she has undergone additional testing and credentialing to become a board-certified pediatric dentist.
She is happily married to her college sweetheart. In her spare time, Dr. Lucia loves driving her kids to fencing and volleyball practice, cheering at their tournaments, reading, Starbucks, traveling, cooking, and is newly rediscovering her love of racquetball, want to play?!
Patient Safety Protocol
As always, our dedication to keeping our patients safe remains our top priority. To help us do that, please be aware of some of the following changes you may see at your next appointment:
We'll be utilizing a virtual waiting room. Please wait in your car until a team member notifies you to head inside.
We will be doing a health screening and taking the temperatures of anyone that enters the building.
We ask that only one guardian accompany a child and to not bring siblings who don't have appointments. Patients over 18 will come in on their own.
Please use the provided hand sanitizer when you come into the office.
Everyone in the building will be asked to wear a mask.
We have staggered appointment times to reduce the number of people in the building at any given time.
Sneeze guards have been installed at the front desk.
We have Air Purification with True H13 HEPA filtration, use UV sterilization for dental equipment, and high-speed suction devices in hygiene to reduce aerosols.
Please let your child know that our team will be wearing extra PPE (Personal Protective Equipment).
Our office has always maintained infection protocols that meet and exceed minimal recommendations, and we will continue to do so. In fact, our standard of care is now being adopted as the industry gold-standard in reducing aerosols.