Proper Nutrition For Growing Smiles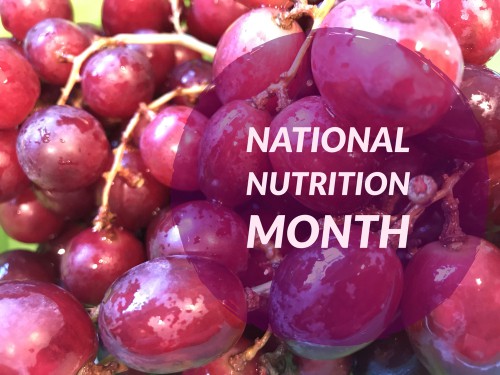 You do your best to make sure your kids eat a well-balanced diet so that they can grow up big and strong. But did you know that proper nutrition is also great for developing teeth and overall oral health? As we celebrate National Nutrition Month this March, our Reynoldsburg pediatric dental office wants to provide you with some key information about how nutrition can help give your child a healthy mouth.
What to Eat
Packing your child's diet with plenty of good stuff not only helps protect teeth against decay but can also help prevent bacteria or plaque from sticking around too long. Here are some tooth-friendly foods to include in your family's diet:
Fruits and Veggies

– Healthy fruits and vegetables are loaded with vitamins and nutrients that our bodies and mouths need. Some of these tasty treats, such as apples or carrots, can even help gently clean teeth. Consider celery, cucumbers, snap peas, and bananas as after-school snacks and incorporate a veggie with every meal.

Fish, Eggs, and Meat – Foods in this food group contain a lot of phosphorus, and that's good news for teeth. Phosphorous protects the strength of the protective enamel and keeps it strong and healthy. This can reduce the risk of decay or sensitivity and more required visits to your

pediatric dentist on

Reynoldsburg

.

Water – What we drink can also have an effect on your child's oral health. Try to avoid soda and juices and choose water instead. Water stimulates saliva production and washes away bacteria that could contribute to cavities.
Calcium is Crucial
Calcium's role in building strong bones is well-known, but this mineral is also essential for teeth.  Make sure you're including some calcium-rich foods such as cheese, milk, and yogurt in your child's diet. If dairy is a problem for little one's digestive system you can also get a nice boost of calcium from collard greens, broccoli, kale, and soybeans.
Limit Sugar
It's no surprise that we aren't big fans of sugar. While we understand that you probably can't always keep your kid from sweets, we do encourage you to try and moderate how much sugar she consumes.
If you have questions about your little one's oral health or how her diet can affect her growing grin, our Reynoldsburg pediatric dental office is here to help. Call us to schedule a visit with us today!
Patient Safety Protocol
As always, our dedication to keeping our patients safe remains our top priority. To help us do that, please be aware of some of the following changes you may see at your next appointment:
We'll be utilizing a virtual waiting room. Please wait in your car until a team member notifies you to head inside.
We will be doing a health screening and taking the temperatures of anyone that enters the building.
We ask that only one guardian accompany a child and to not bring siblings who don't have appointments. Patients over 18 will come in on their own.
Please use the provided hand sanitizer when you come into the office.
Everyone in the building will be asked to wear a mask.
We have staggered appointment times to reduce the number of people in the building at any given time.
Sneeze guards have been installed at the front desk.
We have Air Purification with True H13 HEPA filtration, use UV sterilization for dental equipment, and high-speed suction devices in hygiene to reduce aerosols.
Please let your child know that our team will be wearing extra PPE (Personal Protective Equipment).
Our office has always maintained infection protocols that meet and exceed minimal recommendations, and we will continue to do so. In fact, our standard of care is now being adopted as the industry gold-standard in reducing aerosols.