It's National Children's Dental Health Month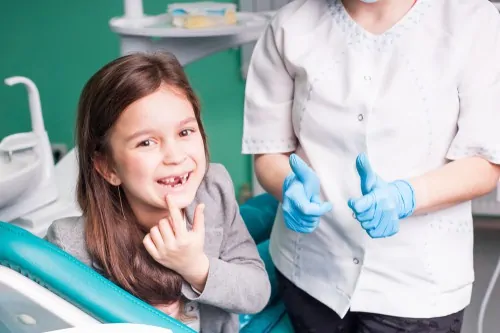 Every February, our pediatric dental office in Reynoldsburg celebrates National Children's Dental Health Month. Brought to us by the American Dental Association (ADA), National Children's Dental Health Month is designed to promote the importance of proper oral hygiene and dental care in children — which is everything our team stands for. We'd like to share a few ways you can celebrate and share this important message in order to help kids grow strong, healthy smiles.
"Brush and Clean in Between to Build a Healthy Smile"
The 2019 Children's Dental Health Month theme is "brush and clean in between to build a healthy smile." This slogan and the main message of this year's theme is to show just how important it is for kids to brush their teeth regularly as well as floss in between each and every tooth. To help, ADA has put together fun, interactive games and activities to make learning about dental care fun for kids. Head on over the ADA website and download all sorts of free educational tools including coloring sheets, crossword puzzles, and a calendar to keep track of brushing habits. Then make sure to teach your child the proper way to care for teeth and practice every day.
Proper Brushing and Flossing for Kids
It's important to not only make sure your little one brushes and flosses regularly, but also that they do so thoroughly and well. Starting good brushing and flossing techniques early will help set your child up for a lifetime of good oral hygiene and in turn, great oral health. One of the best ways you can help to make sure she's getting the most out of her brushing and flossing is by joining her at the sink and doing it with her.
Brush Your Teeth
When you wake up in the morning and before your child goes to bed at night, take some time to brush your teeth together. Maybe turn on some fun music and brush for two full minutes. Turning teeth brushing into a daily habit and adding in a dose of fun not only makes brushing enjoyable for your child but also gives you the opportunity to make sure she's brushing properly.
Floss In Between
Flossing can be hard, especially for little fingers. But it's still really important that your little one removes food particles and bacteria buildup in between teeth that brushing alone may have missed. If using traditional floss isn't quite working for your child, try an alternate floss product such as floss picks. Whichever floss your child prefers, just make sure she's gently gliding it in between every tooth and up under the gum line every day.
While brushing and flossing are crucial for growing smiles, maintaining visits to your pediatric dentist in Reynoldsburg is also necessary. We're always welcoming new patients and would encourage you to call us to schedule an appointment today!
Patient Safety Protocol
As always, our dedication to keeping our patients safe remains our top priority. To help us do that, please be aware of some of the following changes you may see at your next appointment:
We'll be utilizing a virtual waiting room. Please wait in your car until a team member notifies you to head inside.
We will be doing a health screening and taking the temperatures of anyone that enters the building.
We ask that only one guardian accompany a child and to not bring siblings who don't have appointments. Patients over 18 will come in on their own.
Please use the provided hand sanitizer when you come into the office.
Everyone in the building will be asked to wear a mask.
We have staggered appointment times to reduce the number of people in the building at any given time.
Sneeze guards have been installed at the front desk.
We have Air Purification with True H13 HEPA filtration, use UV sterilization for dental equipment, and high-speed suction devices in hygiene to reduce aerosols.
Please let your child know that our team will be wearing extra PPE (Personal Protective Equipment).
Our office has always maintained infection protocols that meet and exceed minimal recommendations, and we will continue to do so. In fact, our standard of care is now being adopted as the industry gold-standard in reducing aerosols.