The Woes of Bottles and Baby Teeth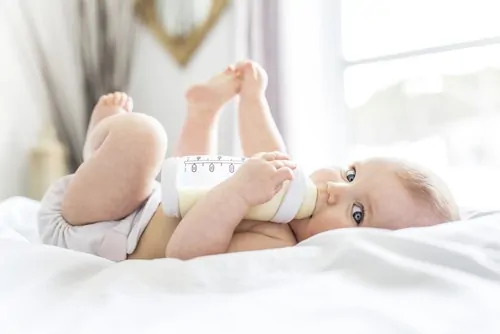 Baby teeth serve an important role in a growing mouth, and even though they're only around for a short time, it's crucial to take care of them. One of the most common problems associated with baby teeth is something known as Baby Bottle Decay. At Reynoldsburg pediatric dental office, we're here to talk about what exactly that is and how to prevent it.
What is Baby Bottle Tooth Decay?
Baby Bottle Tooth Decay is a term used to describe decay in a young child's mouth, often caused by too much exposure to sweetened liquids given from a bottle. Milk, formula, and fruit juice all contain sugar, and if they're left on teeth for too long, it could lead to problems with your little one's teeth.
Why is it Worrisome?
The sugars found within many common children's drinks are what mouth bacteria love to feed on. When the bacteria feed, they produce acid. It's this acid that eats away at the enamel, leading to decay and cavities. If decay is left untreated, your child may experience pain or even need to have severely decayed teeth pulled. Keeping baby teeth healthy until they're lost naturally is important for proper speech development, eating, and smiling. They're also placeholders for permanent adult teeth.
How do We Prevent it?
Baby Bottle Decay can be prevented by taking several precautionary steps including:
Keeping the bottle out of bed. When an infant or toddler takes a full bottle to bed, there's a good chance he'll keep it in his mouth for longer than normal, increasing the amount of time the teeth are exposed to the contents. If left to linger overnight, it could lead to decay. If your child prefers a bottle at bedtime, make sure it contains only water.
Clean up after eating. When your baby is done with his bottle, take a clean piece of gauze and wipe his gums. This helps remove any lingering sugars.
Start hygiene habits early. As soon as your child gets his first tooth, you should start to brush gently with a child-sized toothbrush. The American Dental Association also recommends applying a rice grain size of fluoride toothpaste. By age one he should see a pediatric dentist in Reynoldsburg.
We're here to get your baby on the right track toward a healthy, happy mouth with regular checkups and proper dental care, and we'll work with you to give you advice on how you can help at home. We're always welcoming new patients at our pediatric dental office in Reynoldsburg and welcome you to call us today.
Patient Safety Protocol
As always, our dedication to keeping our patients safe remains our top priority. To help us do that, please be aware of some of the following changes you may see at your next appointment:
We'll be utilizing a virtual waiting room. Please wait in your car until a team member notifies you to head inside.
We will be doing a health screening and taking the temperatures of anyone that enters the building.
We ask that only one guardian accompany a child and to not bring siblings who don't have appointments. Patients over 18 will come in on their own.
Please use the provided hand sanitizer when you come into the office.
Everyone in the building will be asked to wear a mask.
We have staggered appointment times to reduce the number of people in the building at any given time.
Sneeze guards have been installed at the front desk.
We have Air Purification with True H13 HEPA filtration, use UV sterilization for dental equipment, and high-speed suction devices in hygiene to reduce aerosols.
Please let your child know that our team will be wearing extra PPE (Personal Protective Equipment).
Our office has always maintained infection protocols that meet and exceed minimal recommendations, and we will continue to do so. In fact, our standard of care is now being adopted as the industry gold-standard in reducing aerosols.